Cookie Swap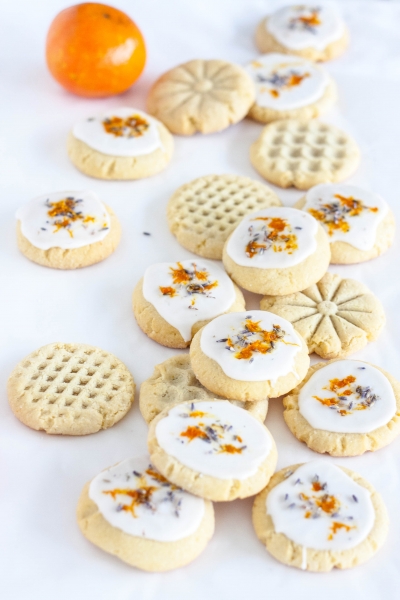 I'm launching this year's Christmas cookie baking, with traditional 4th annual Great Food Blogger Cookie Swap, hosted by Lindsay from Love & Olive Oil, and by Julie from The Little Kitchen. The Swap is a fundraiser for a great cause, and also a fun way for bloggers to communicate, make themselves known and seen by other fellow food bloggers and bakers, and it also allows us to get into all that Holiday spirit, by swapping yummy cookies and recipes.
Just like the cookie swaps of 2012 and 2013, this year again I'm very excited to participate in the swap. I've picked Naomi's from Bakers Royale tangerine & olive oil cookies with orange-scented sugar glaze, sprinkled with tangerine zest and lavender. The cookies looked good, tasted great, sweet and fruity, crunchy on the outside, soft and chewy on the inside, thanks to all that butter, olive oil and spoonfuls or grated tangerine zest. They were also quite sturdy, seemed like a good kind of cookie for shipping. I hope they made it to their destinations in good shape.
Thanks to Becca from The Salted Cookie for all nice words about my cookies. I haven't heard from the other two recipients, Kimberly from Rhubarb and Honey, and Carol from Café Carol – I truly hope they too were happy with my cookie choice.
I received a nice shipment of miniature orange & pecan biscotti from Linda who writes a very lovely blog The Orange Bee. Linda's biscotti were not only delicious, but also very cute, tiny little cookies, the size of a finger, perfect for dipping in coffee or tea. Thanks, Linda, again, very much.

Second shipment came from Meghan at Cake'n'Knife. Meghan has sent me her lovely spritz cookies in the shapes of tiny Christmas trees, and a baggie of homemade peppermint bark, for an extra-sweetenss. Thanks, Meghan! Both the cookies and the bark were superb!
Third batch of cookies came from Sarah; the note that came with the cookies did not have Sarah's blog's web address, just said "Sarah aka coders kitchen"; unfortunately I was not able to locate Sarah's blog and could not thank her for her festive and delicious champagne sugar cookies.
Also, thanks go to Lindsay and Julie, for organizing the swap. It was a great event, like always. Looking forward to do the same thing next year.
Ausra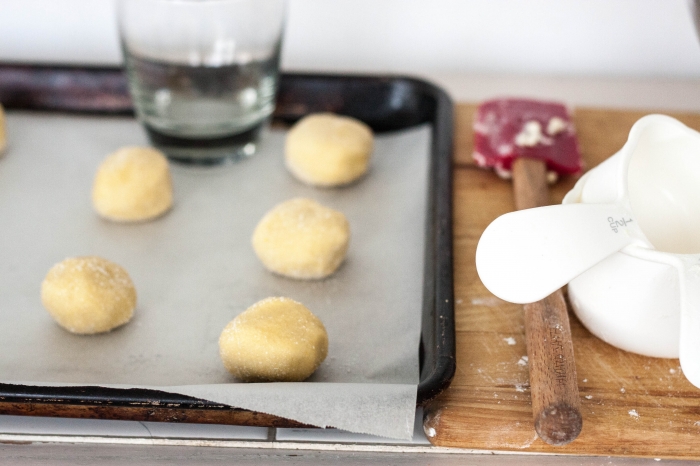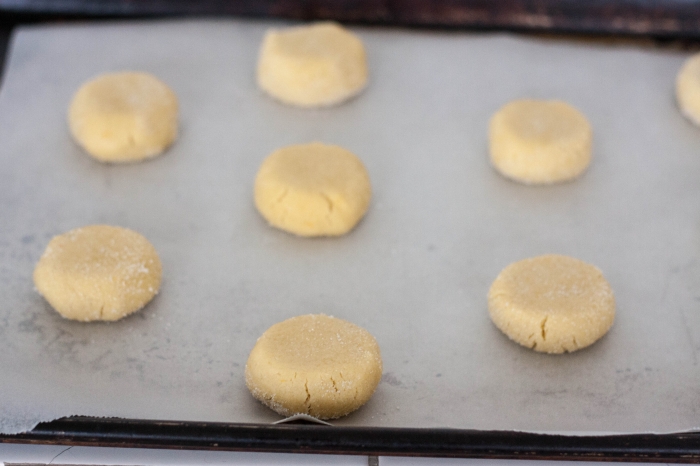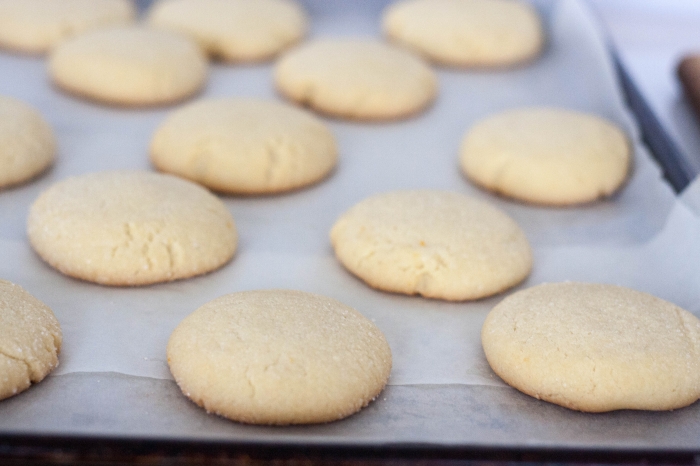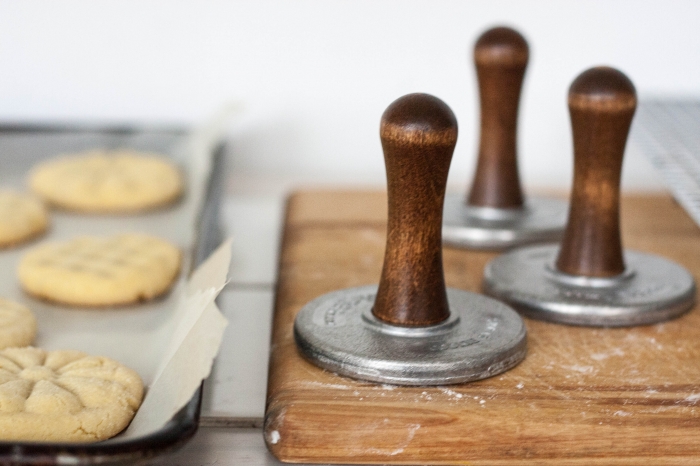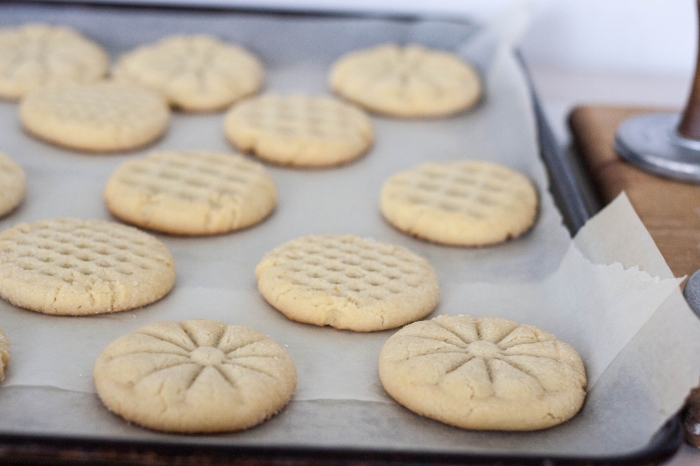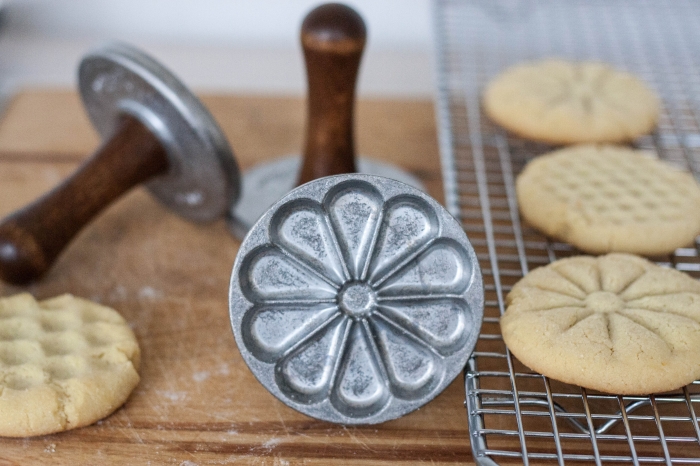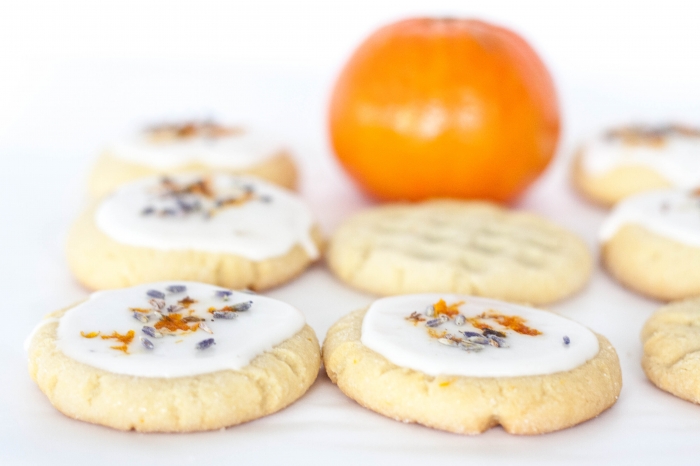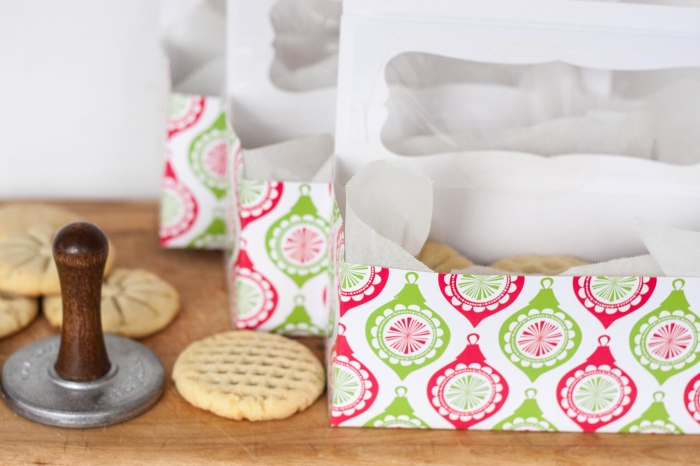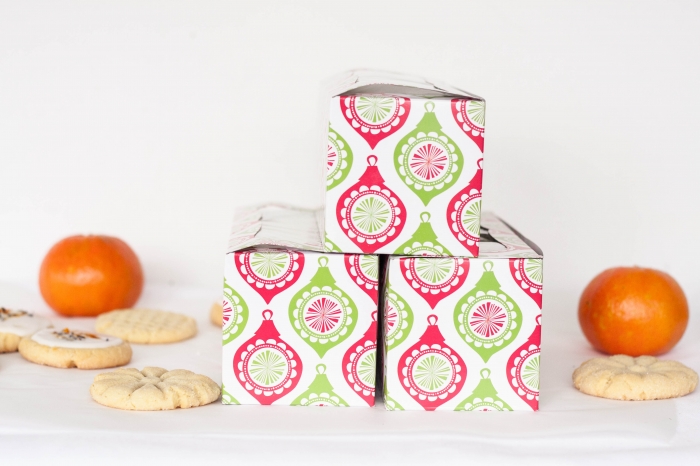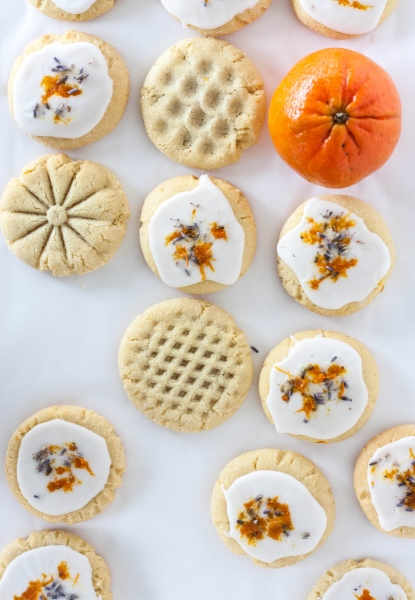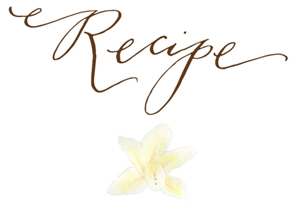 Tangerine Olive Oil Cookies
Recipe from Bakers Royale
Cookies:
¾ cup (12 tablespoons) butter, at room temperature
1 ½ cups sugar
1 ½ teaspoons baking soda
1 ½ teaspoons cream of tartar
1 teaspoon salt
2 eggs
2 teaspoons finely shredded tangerine peel or orange peel
1 teaspoon vanilla
1 teaspoon orange extract
¾ cup olive oil
½ cup almond flour
4 cups flour
½ cup sugar, for coating
Glaze:
1 cup powdered sugar
2-3 tablespoons water
¼ teaspoon orange extract
2 tablespoons tangerine zest
2 tablespoons lavender
Cookies:
In a large bowl, beat butter with an electric mixer on medium to high speed for 30 seconds. Add 1 ½ cups sugar, baking soda, cream of tartar, and salt. Beat until light and fluffy, scraping sides of bowl occasionally, for about 4 minutes. Add eggs, tangerine peel, vanilla, and orange extract. Beat until combined. With mixer on, slowly add oil in a thin stream, and beat until smooth. Mix in almond flour. Sift in flour and mix on low until all flour is incorporated. Cover and chill the dough for 30 to 60 minutes.
Preheat oven to 350oF. Place ½ cup sugar in a small bowl. Shape dough into 1-inch balls; roll balls in sugar to coat. Place balls 2 inches apart on an ungreased baking sheet. Flatten the balls slightly. Bake in the preheated oven for 9 to 11 minutes or until tops are very lightly browned. Remove from the oven. Transfer cookies to a wire rack; let cool completely.
Glaze:
Whisk together sugar, 2 tablespoons water and extract. Add more water if needed. Dip cookies into glaze and sprinkle zest and lavender on top.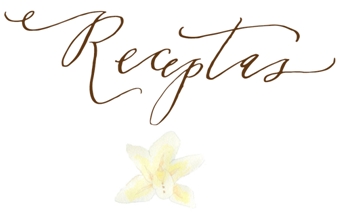 Sausainiai su mandarinais ir alyvuogių aliejumi
Recepto šaltinis: Bakers Royale
Sausainiai:
170 g sviesto
1 ½ stiklinės* cukraus
1 ½ šaukštelio valgomosios sodos
1 ½ šaukštelio vyno akmens miltelių
1 šaukštelis druskos
2 kiaušiniai
2 šaukšteliai smulkiai sutarkuotos mandarinų žievelės
1 šaukštelis vanilės esencijos
1 šaukštelis apelsinų esencijos
¾ stiklinės alyvuogių aliejaus
½ stiklinės migdolų miltų
4 stiklinės miltų
½ stiklinės cukraus, apvoliojimui
Glajus:
1 stiklinė cukraus pudros
2-3 šaukštai vandens
¼ šaukštelio apelsinų esencijos
2 šaukštai smulkiai sutarkuotos mandarinų žievelės
2 šaukšteliai džiovintų levandų žiedų
*1 stiklinė = 236 ml
Sausainiai:
Dideliame dubenyje elektriniu mikseriu išsukti sviestą iki vientisos masės. Suberti 1 ½ stiklinės cukraus, valgomąją sodą, vyno akmens miltelius ir druską. Sukti kol masė taps puri, maždaug 4 minutes. Sudėti kiaušinius, tarkuotą mandarinų žievelę, vanilės ir apelsinų esencijas. Išmaišyti. Nenustojant sukti, į tešlą plona srovele pamažu supilti aliejų ir sukti, kol masė taps vientisa. Tiesiai į dubenį persijoti miltus, suberti migdolų miltus ir išmaišyti, kol nebeliks sausų miltų ruožų. Tešlą uždengti plėvele ir dėti pusvalandžiui arba valandai į šaldytuvą.
Orkaitę įkaitinti iki 175oC. Į mažą dubenėlį suberti ½ stiklinės cukraus. Iš tešlos formuoti 2,5 cm skersmens rutuliukus, juos dėti ant kepimo skardos, tarp sausainių paliekant maždaug 5 cm tarpus. Rutuliukus šiek tiek suploti. Kepti maždaug 9-11 minučių, kol sausainių viršus vos vos pagels. Traukti iš orkaitės. Sausainius perdėti ant grotelių, palikti, kad pilnai atvėstų.
Glajus:
Dubenėlyje sumaišyti cukraus pudrą, 2 šaukštus vandens ir apelsinų esenciją. Jeigu glajus per tirštas, įpilti dar vieną šaukštą vandens. Glajumi aptepti sausainius, ant viršaus užbarstyti tarkuotos mandarinų žievelės ir džiovintų levandų žiedų.
---
---
Palikite komentarą
---