Double Chocolate Sandwich Cookies for the Cookie Swap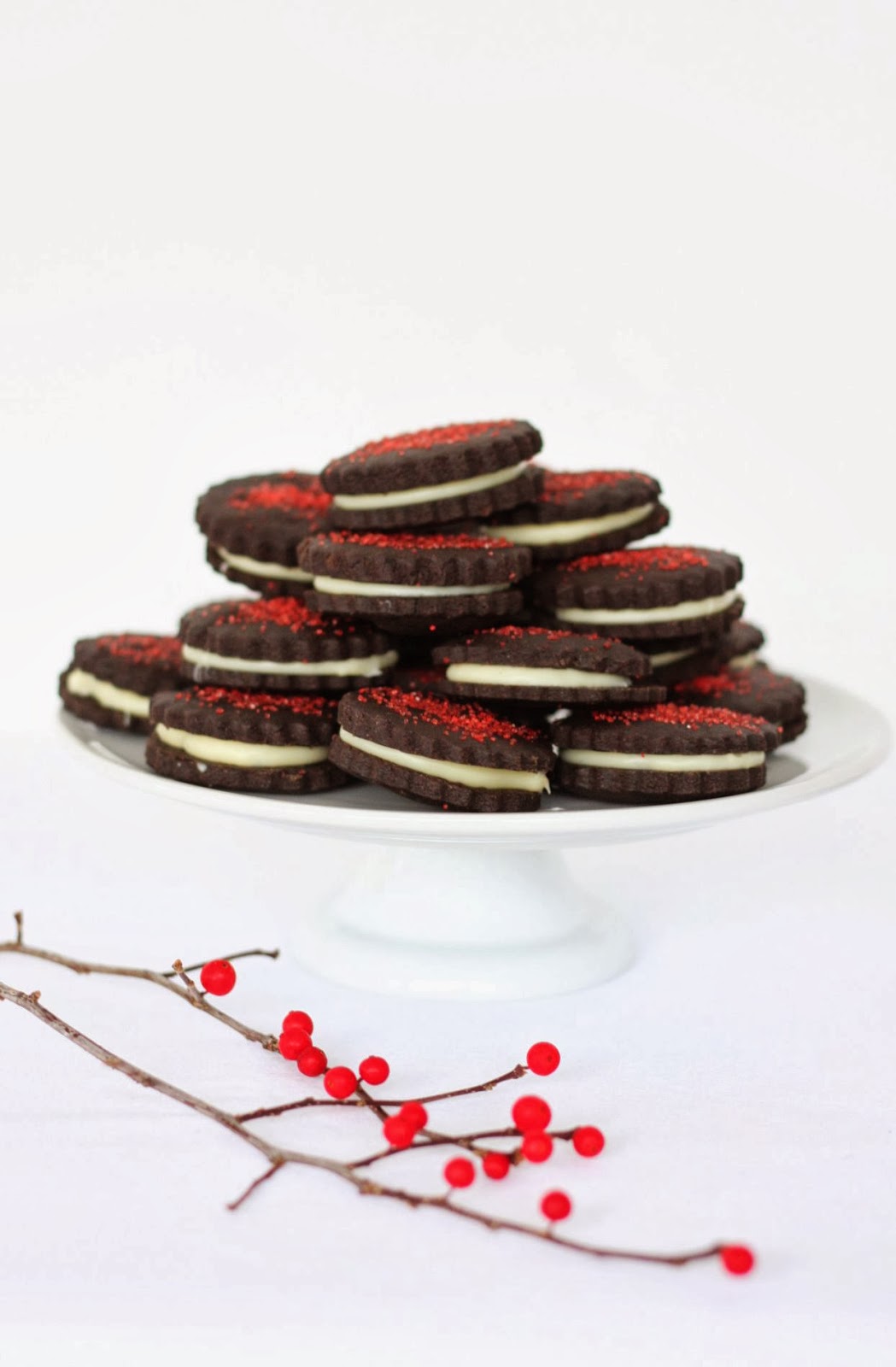 Food blogger cookie swap is a wonderful event, for many reasons.
First of all it is a genius way to raise money for a great cause.
It also gives an opportunity for the participants to discover new food blogs and bloggers that otherwise most likely would not be discovered, due to the overwhelming infinity of the food bloggers out there.
Cookie swap is yet another excuse to bake a batch of something delicious and to share it with others.
And most importantly, cookie swap delivers three yummy packages of homemade cookies to your door. They arrive unannounced and bring that festive sense of excitement.
I loved donating money for Kid's Cancer. I loved baking and sharing. I was glad to find six new beautiful food blogs and seven wonderful ladies that seem to have quite a bit of similarity to me in the way we cook and what we cook; Lindsay and Jullie did a really good job finding me the good matches.
The cookies I've received were 100% perfect, all three shipments, the third year in a row. It is either because all food bloggers participating in the swap are amazingly good bakers, or I am just so very lucky.
Susan and Nicole from Flavors by Four have sent me their raspberry almond shortbread cookies. A thumbprint-style cookie, with raspberry jam and white chocolate drizzle, melt in your mouth goodness. Excellent cookies. Thank you, Susan and Nicole.
Kelli from Confections and Coffee made the super good looking, impeccably packaged, stylish and yummy chocolate fudge–peppermint crunch cookies. Two boxes of them. Pretty and delicious. Thank you, Kelli.
Melissa from Brooklyn Locavore has sent me a very generous amount of her lavender rosemary shortbread cookies. Those were amazingly delicious; haven't had such a delicious cookie in a long long time. Lavender flavor is one of my favorites in desserts; the addition of rosemary and I believe some sea salt made those cookies over the top delightful. The texture was perfect, not too sandy, nor crumbly, nor dry. They were rich, super flavorful, super tasty. Perfect perfect cookies. Cannot wait to see the recipe. Thank you, Melissa.
To summarize, the cookie swap was a total success. I'm so glad to be a part of it. I hope my swap matches liked my cookies.
Thanks to Lindsay and Julie for doing such a wonderful job again.
Happy holidays to you all.
Ausra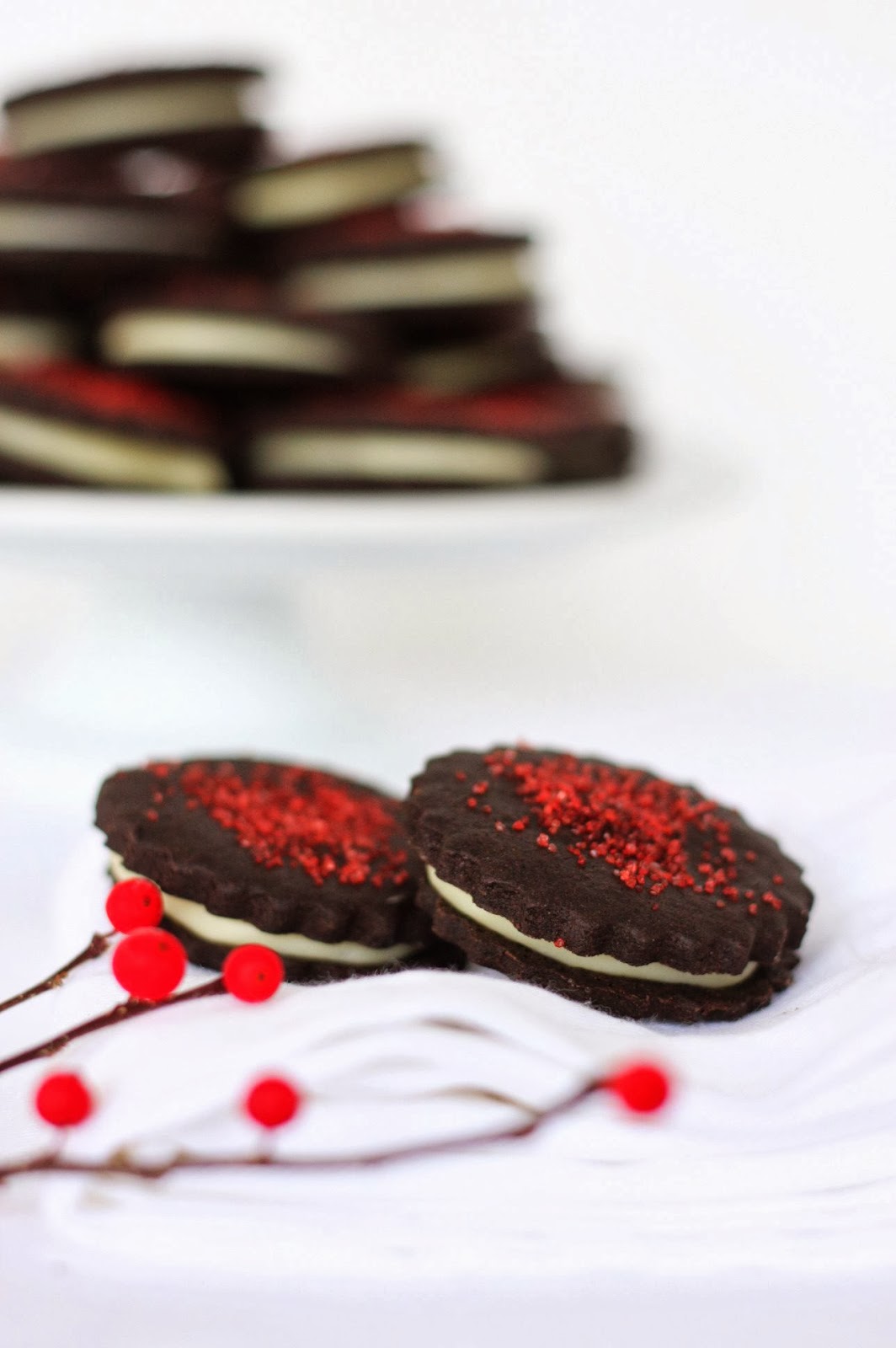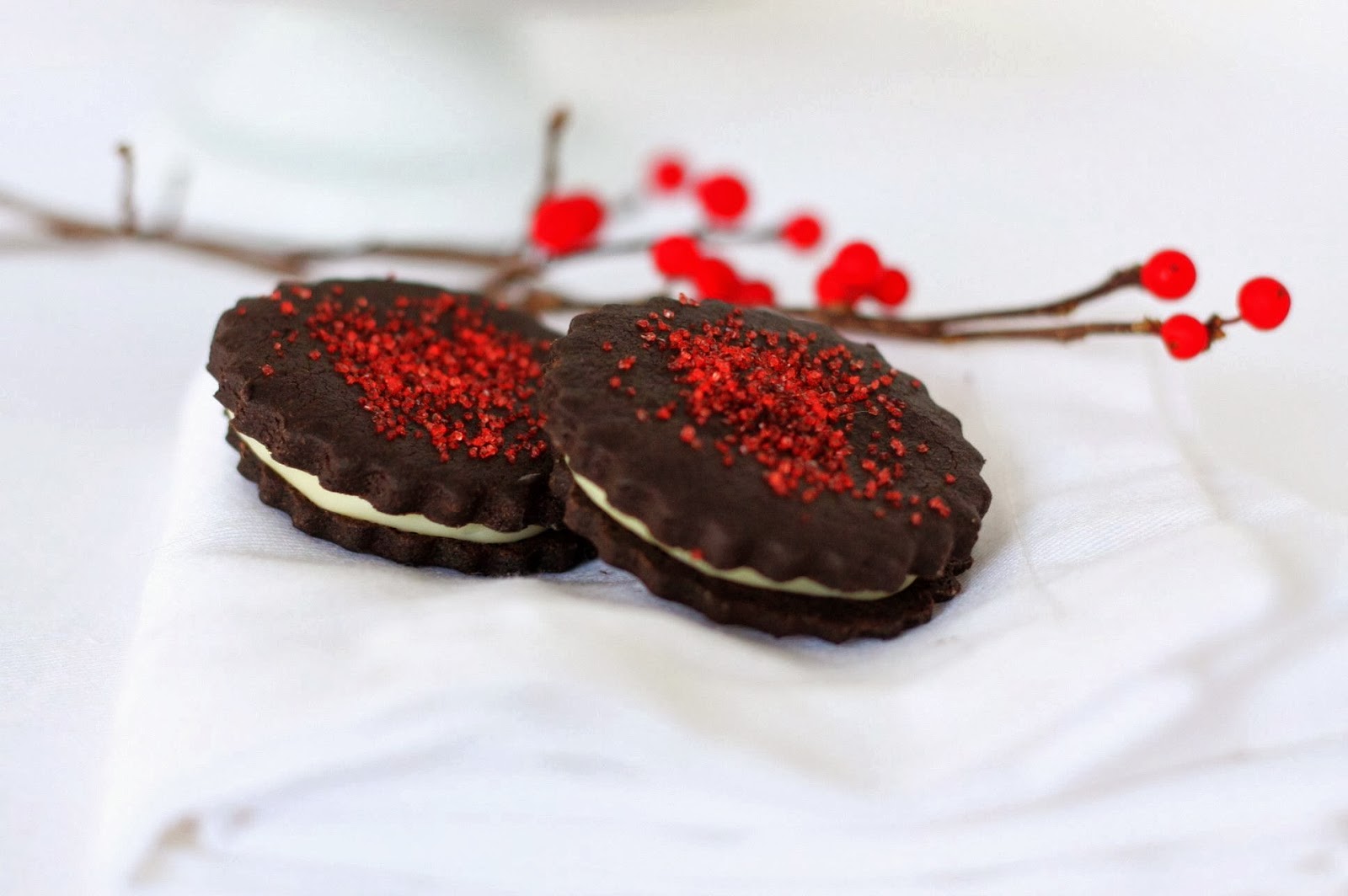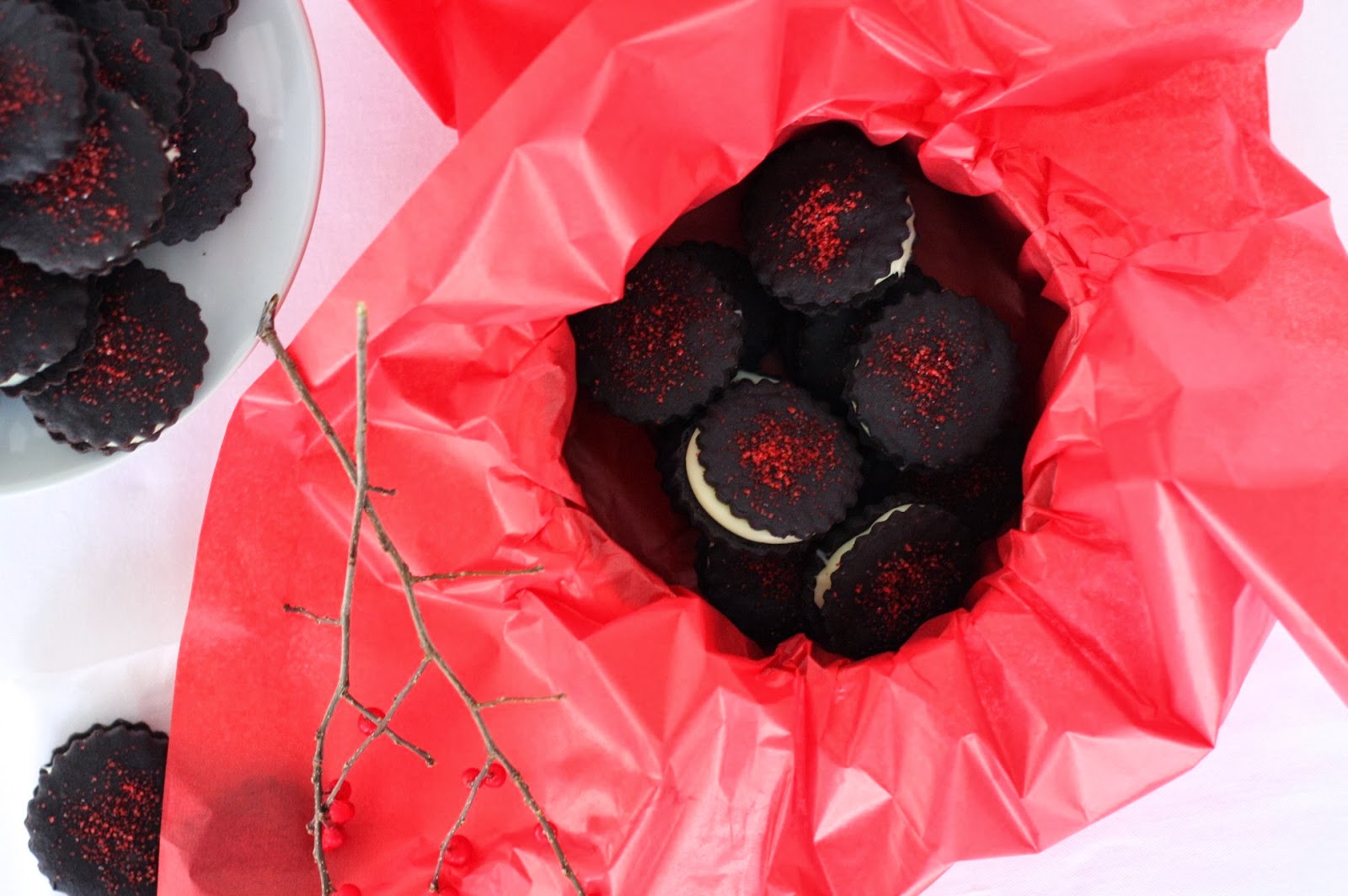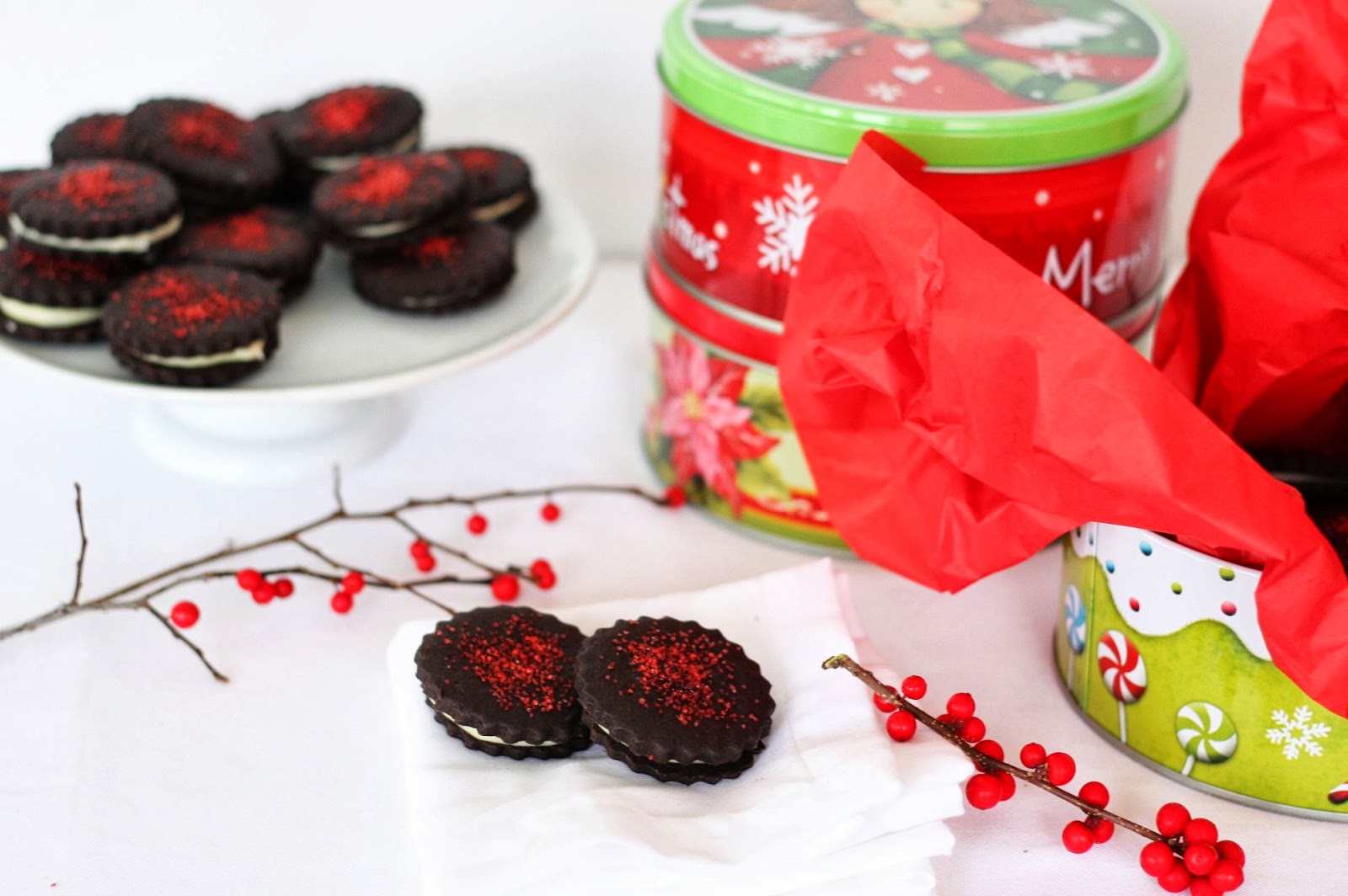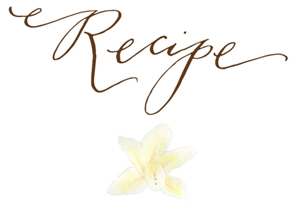 Double Chocolate Sandwich Cookies
Recipe from Gourmet | December 2007
Dough:
2 cups flour
1/2 cup unsweetened cocoa powder
1/2 teaspoon baking powder
1/2 teaspoon salt
2 sticks (1/2 pound) butter, at room temperature
3/4 cup sugar
1 egg yolk
1 teaspoon vanilla extract
Filling:
1/2 cup heavy cream
1 1/2 tablespoons light corn syrup
3/4 pound white chocolate, chopped
2 tablespoons butter, softened
2 teaspoons vanilla extract
Dough:
Sift together flour, cocoa powder, baking powder, and salt.
Beat butter and sugar with an electric mixer until pale and fluffy, then beat in yolk and vanilla. At low speed, mix in flour mixture in 3 batches just until a dough forms. Divide dough in half and form each piece into a 6-inch square, then chill, wrapped in plastic wrap, until firm, 2 to 3 hours.
Filling:
Bring cream and corn syrup just to a simmer in a small heavy saucepan. Remove from heat. Add chopped chocolate, butter and vanilla. Stir until smooth. Chill, stirring occasionally, until very thick, about 30 minutes.
Cookies:
Preheat oven to 350°F. Line two large baking sheets with parchment.
Roll out 1 piece of dough between two sheets of parchment paper into a 1/8 inch thick rectangle. Slide dough in parchment onto a tray and freeze until dough is firm, about 10 minutes. Repeat with remaining dough.
Cut out as many rounds as possible from first chilled square with cutter, reserving and chilling scraps, then quickly transfer cookies to a buttered baking sheet, arranging them 1/2 inch apart.
Sprinkle half of cookies with decorative sugar, then bake cookies until tops become dry, approzimately 7 – 8 minutes. Cool on baking sheet for 5 minutes, then transfer onto a rack to cool completely.
Make more cookies with remaining dough and scraps.
Assembling:
Beat filling with an electric mixer at high speed just until light and fluffy. Transfer to a ziplock bag. Snip off the corner of the bag corner with scissors. Pipe filling onto flat sides of plain cookies, then top with sugared cookies to make sandwiches. Chill, layered between sheets of parchment, until filling is set, at least 1 hour.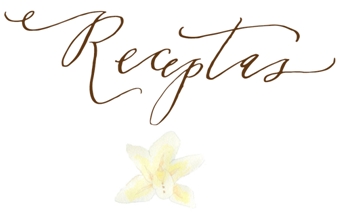 Šokoladiniai sausainiai suvožtiniai
Pagal receptą iš Gourmet | December 2007
Tešlai:
2 stiklinės* miltų
1/2 stiklinės kakavos miltelių
1/2 šaukštelio kepimo miltelių
1/2 šaukštelio druskos
250 g sviesto, kambario temperatūros
3/4 stiklinės cukraus
1 kiaušinio trynys
1 šaukštelis vanilės esencijos
Įdaras:
1/2 stiklinės riebios grietinėlės
1 1/2 šaukšto kukurūzų sirupo
354 g balto šokolado, susmulkinto
30 g sviesto, kambario temperatūros
2 šaukšteliai vanilės esencijos
*1 stiklinė = 236 ml
Tešla:
Kartu persijoti miltus, kakavą, kepimo miltelius ir druską.
Elektriniu mikseriu išsukti sviestą ir cukrų iki purumo. Sudėti trynį ir vanilės esenciją. Lėtai sukant, per tris kartus įmaišyti miltų mišinį; maišyti tik tol, kol nebeliks sausų miltų ir susiformuos vientisa tešla. Tešlą padalinti pusiau. Kiekvieną puselę suploti į maždaug 15 x 15 cm kvadratėlį, įskukti į maistinę plėvelę ir dėti į šaldytuvą, kas sutingtų, maždaug 2 – 3 valandoms.
Įdaras:
Nedideliame puodelyje užvirinti grietinėlę ir sirupą. Nukelti nuo ugnies. Suberti smulkintą šokoladą, sudėti sviestą ir vanilę. Maišyti, kol masė taps vientisa. Įdarą padėti šaltai. Retkarčiais pamaišyti. Šaldyti, kol sutirštės, maždaug 30 minučių.
Sausainiai:
Orkaitę įkaitinti iki 175oC. Dvi dideles kepimno skardas iškloti sviestiniu popieriumi.
Iš šaldytuvo išimti vieną tešlos kvadratėlį. Iškočioti tarp dviejų sviestinio popieriaus lakštų į 3 mm storio stačiakampį. Iškočiotą tešlą su popieriumi perkelti ant padėklo ir dėti 10 minučių į šaldiklį. Iškočioti antrą tešlos dalį ir taip pat įdėti į šaldiklį.
Iš sukietėjusios tešlos sausainiams skirta formele išspausti skritulėlius, juos išdėlioti ant paruoštų kepimo skardų, tarp sausainių paliekant 1 cm tarpus. Pusę skritulėlių apibarstyti dekoratyviniu cukrumi. Sausainius kepti maždaug 7 – 8 minutes, kol viršus taps sausas. Traukti iš orkaitės, palikti skardose, kad šiek tiek atvėstų, maždaug 5 miuntus. Perkelti ant grotelių, kad pilnai atvėstų.
Iškočioti tešlos likučius ir iškepti likusius sausainius.
Suvožtinių formavimas:
Sustingusį kremą išsukti mikseriu iki purumo. Sukrėsti į standų plastikinį maišelį. Nukirpti maišelio kampą. Kremą išspauti ant lygiosios sausainių pusės, užvožti sausainiais su dekoratyviniu cukrumi. Dėti 1 valandai į šaldytuvą, kad pilnai sustingtų. Laikyti šaltai.
---
---
Palikite komentarą
---