Classics: Mint Chocolate Chip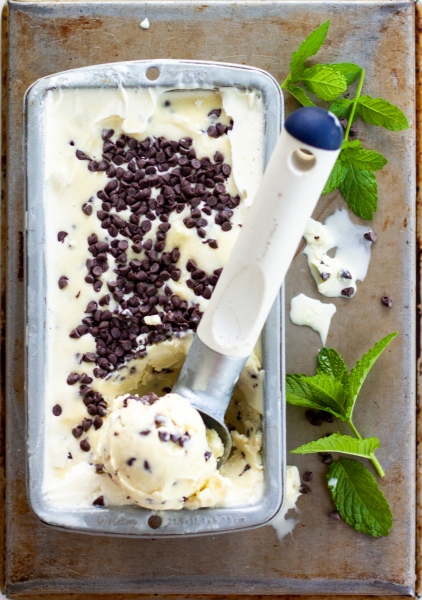 One more recipe from "The Classics" chapter: mint chocolate chip ice cream. Recipe by David Lebovitz, the best recipe for mint chocolate chip ice cream out there, in my opinion. Ice cream turns out minty, and creamy, rich, and refreshing, and indulgent, all at the same time. Use freshly picked mint, pluckes straight from the garden. Freshness will make all the difference. You will need a lot of mint, but that is not a problem these days, mint is so abundant now. If you do not have a garden, or do not have mint in yours, you most likely have a friend and would be happy to share and happily provide you with a truckload of fresh mint leaves, because whoever has mint, they have limitless plantations of it. Mint just grows that way: explosively.
Freshly picked mint leaves will steep in hot milk; that will give the ice cream a beautiful light green tint. Nothing neon or toxicly bright. Just a light deliciously looking tint.
Chocolate is important here too. Use good dark chocolate. I used Ghirardelli miniature dark chocolate chips this time. Other times I just drizzle melted chocolate into churned ice cream, when it is done and thickened, drizzle it straight into the machine. Chocolate will hardened on contact into thin crunchy ribbons, super good!
Make this ice cream, I insist. I make a batch or two every summer, for many years now; I suggest you do too. Summer goes by so quickly, and this special delicious treat will make the magic of the season linger a little bit longer.
Ausra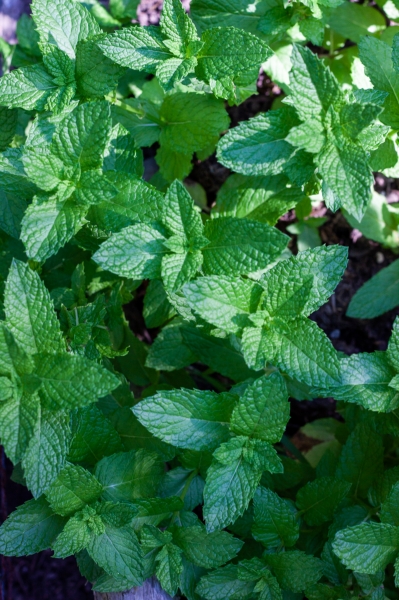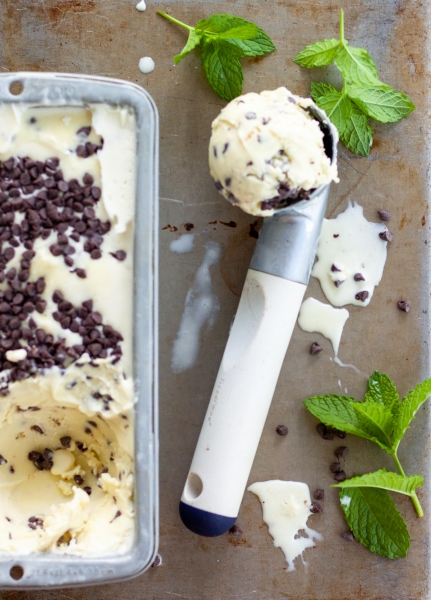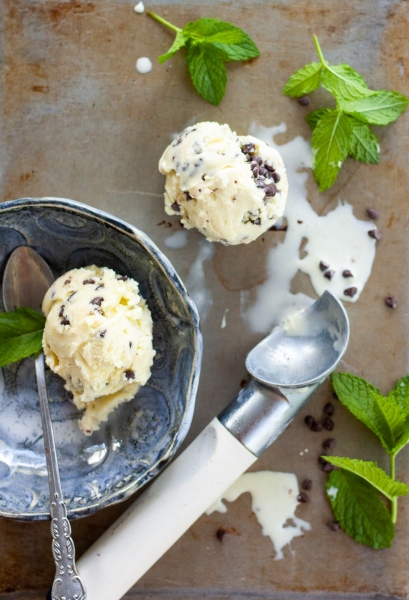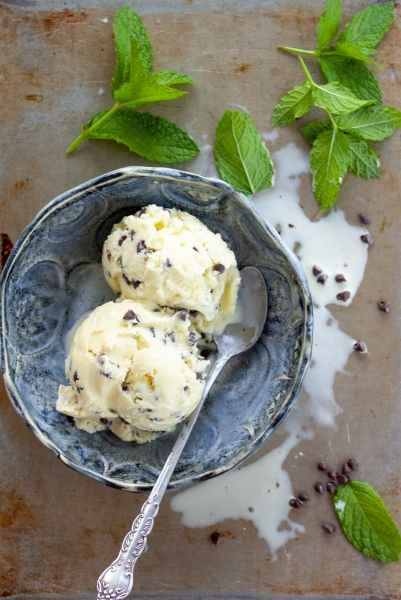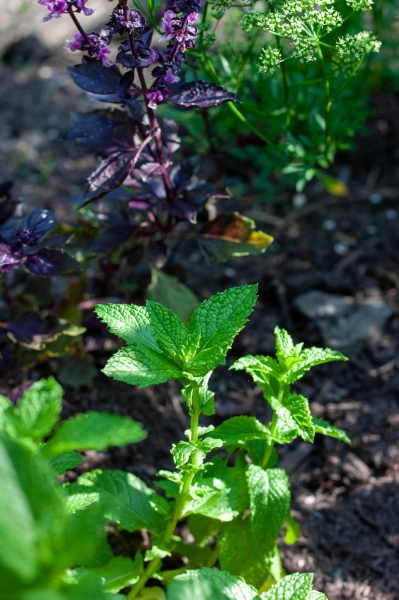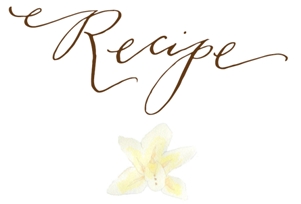 Mint Chocolate Chip Ice Cream
Recipe source: David Lebovitz
1 cup (250ml) whole milk
3/4 cup (150g) sugar
2 cups (500ml) heavy cream
pinch of salt
2 cups (80g) packed fresh mint leaves
5 egg yolks
5 ounces (140g) dark chocolate

In a medium saucepan, warm the milk, sugar, 1 cup (250 ml) heavy cream, salt, and mint.
Once the mixture is hot and steaming, remove from heat, cover, and let steep for an hour. Strain the mint, press down to extract as much mint flavor and color as possible. Discard the mint.
Pour the remaining heavy cream into a large bowl and set the strainer over the top.
Rewarm the infused milk. In a separate bowl, whisk together the egg yolks, then slowly pour some of the warm mint mixture into the yolks, whisking constantly, then scrape the warmed yolks back into the saucepan.
Cook the custard, stirring constantly with a heatproof spatula, until the mixture thickens and coats the spoon. Immediately strain the mixture into the cream, then stir the mixture over an ice bath until cool.
Refrigerate the mixture overnight, then freeze it in ice cream maker until thick. with ice cream maker still churning, drizzle in the melted chcocolate. Transfer ice cream into airtight container. Cover and freeze until firm.
---
---
Palikite komentarą
---