Mel's Cake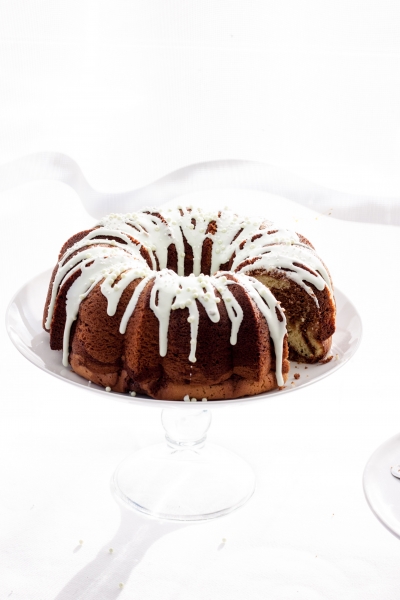 The recipe for this cake was given to me by my neighbor Mel. She has posted a message on our neighborhood's email listserve on St. Patrick's day, saying that the cake is fantastic, she makes it every year for her St. Patrick's day party, and wishes she made it more often.
Mel lives on my road, a few houses down. It is a country road, no sidewalk, barely any road shoulder, just two narrow strips of gravel on both sides of asphalt that go steeply down into the ditches. On both sides of the road are the houses, spaced randomly, some are closer together, some are separated by corn fields or woods. That is where me and my neighbors live. Since there is no street, there isn't really a neighborhood feeling on our road, but we do see our neighbors sometimes, especially the ones that live across the street and in the house next door. We see neighbors walking their dogs, shoveling their driveways or raking leaves. We wave at each other, sometimes yell loud Hello, because, as I said, all houses are quite far apart. We don't get together for backyard parties or barbeques, but we are aware of each other's existence and always reach out for each other, if there is an emergency, or if someone needs to get rid of overabundant apples, or pears, or petunias, or if someone notices some suspicious activity going on at night.
Mel is one neighbor that I see almost every day, during her morning walks up our road, then back down. I run with my dog Izzy, Mel walks, sometimes with her brother, 365 mornings a year, every year, for 10 years now. Sometimes we stop and chat for a minute. Sometimes we exchange emails. So we kinda know each other a little bit.
Mel's cake is made out of cake mix from the box with added eggs, and oil, and some instant pudding mix, also out of the box. Pudding mix turns brightly fluorescent green, when you mix it into the batter. For a gal like myself, who tends to make everything from scratch, starting not too far from the point of growing your own wheat, milling your own flour, and turning all that into a cake, three and a half weeks later, a cake from the box might not be exactly the type that I would make, if left on my own devices. I remember myself a few years back, when I was just starting to work on this food blog, me and my friend Jurate, an exceptional gourmet cook, would watch some of Sandra Lee's videos and would laugh hysterically at Sandra's semi-home-made cakes and other creations, shlopped together by mixing store bought angel food cake, a can of peaches, a tub of cool whip and a bunch of paraffin candles, or a string of plastic beads (I kid you not!!). Those videos still look pretty ghastly to me, but my take on semi home made cooking has changed drastically over the years. I still make everything from scratch, because I love to do so, because I love to make things, and I probably would mill my own flour, if given the opportunity. But I don't see much evil in shortcuts, or simple tricks that make life easier, that get us to the cake or to a batch of muffins faster, and bring us just as much joy as those many-days-of-hard-work-and-ton-of-elbow-grease recipes. The cake or a batch of cupcakes from the box can be just as loved and appreciated, and bring just as many smiles and happy tummies, than those that we baked starting from ground zero. So sometimes one might ask a question: why bother? Make a cake from the box, if you want to do so, I will not frown. Or go and make your own flour, tend your own eggs and churn your own butter, if you so desire, it all sounds equally good to me.
Mel's cake is very good. It is just a tiny bit green, it is very moist and fragrant, it has nice crumb, cuts nicely, looks good, and tastes great. I made it for my son's end of basketball season party. The cake was very well received and was eaten so fast that it was almost unreal, probably within 15 minutes or so. Gone. All of it. And then there were couple kids who came looking for more, but there wasn't any left. I think it would have been a great idea to make two of those same cakes. Next time I'll think about making two.
Thank you, Mel! This cake is definitely worth the try. It is really as good as you've described it. simple, quick, great cake out of the box. Excellent recipe!
Ausra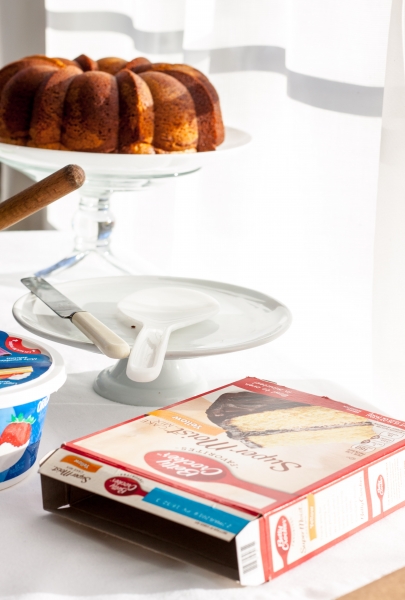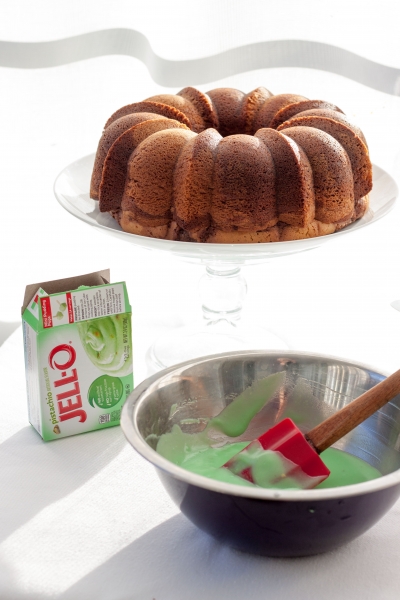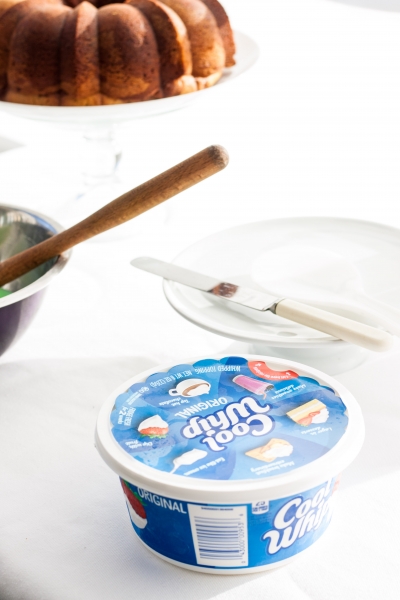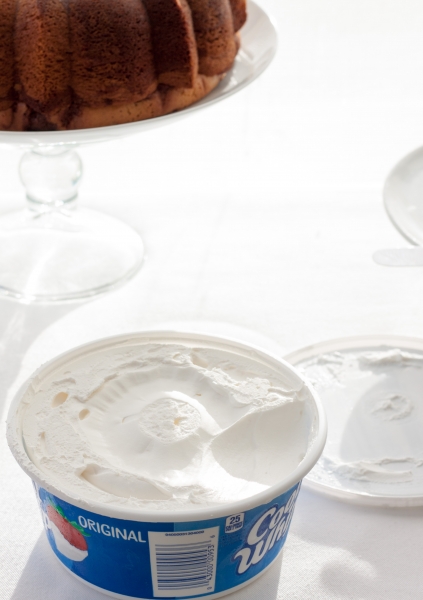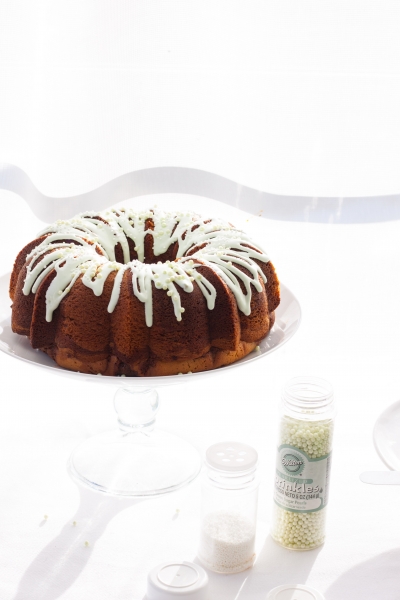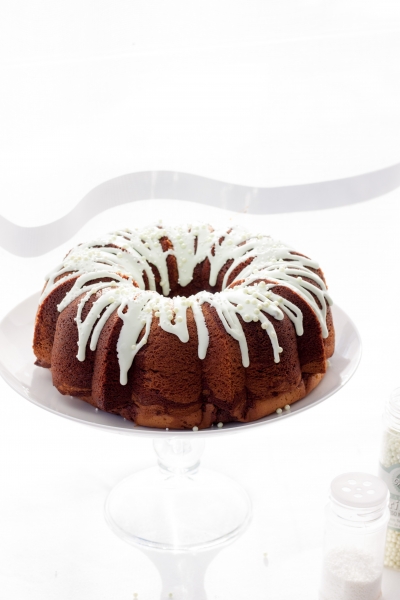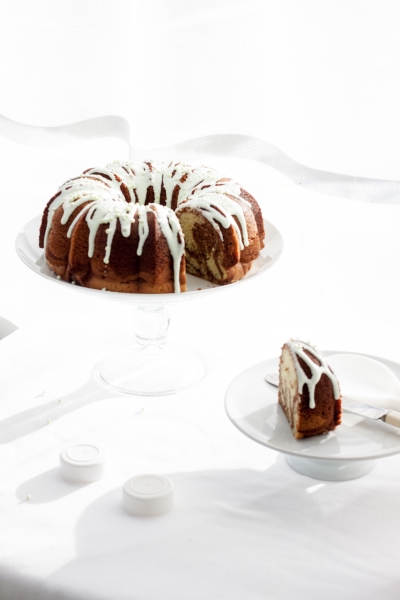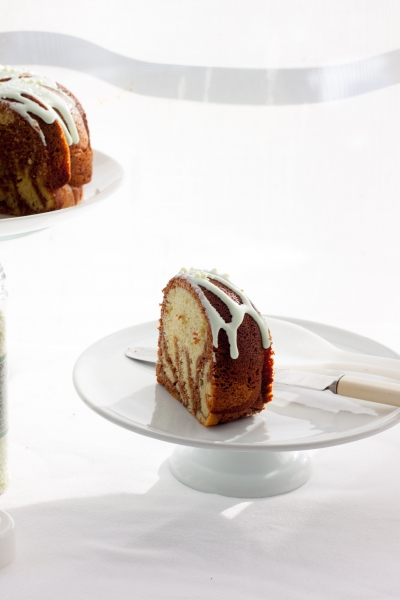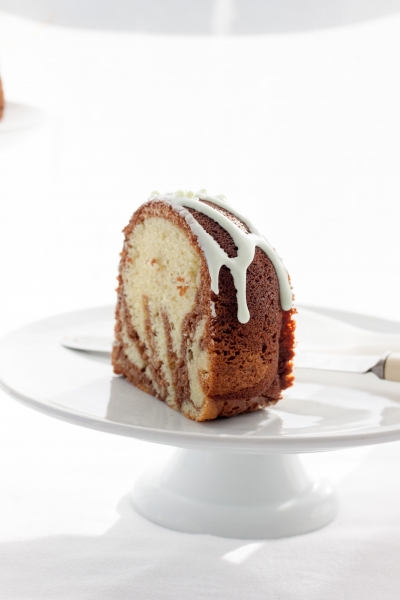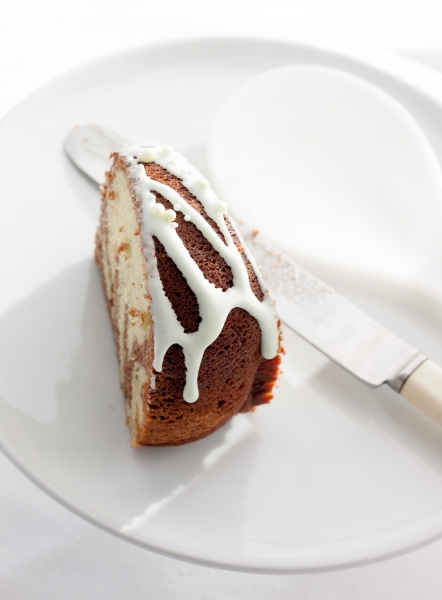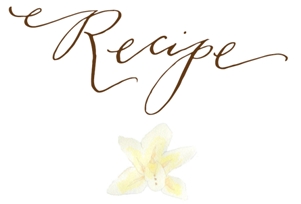 Pistachio Marble Cake
Preheat over to 350 degrees.
Combine one package yellow cake mix, 1 package pistachio instant pudding, 4 eggs, one cup water, 1/2 cup oil and 1/2 tsp. vanilla in large mixer bowl, blend. Beat at medium speed for two minutes. Pour 1/3 of the batter into a separate bowl; stir in 1/4 cup chocolate syrup. Spoon batters alternately into greased (I use Pam) Bundt pan. Zigzag a knife through batter to marble. Check with a toothpick at 32 minutes. Cool for 15 minutes before removing from pan.
This is my frosting recipe---so good!
1 package instant pistachio pudding
3/4 cup milk
8 oz. Cool Whip
Mix pudding and milk, let stand about five minutes or until stiff. Fold in Cool Whip. Spread over cake. Refrigerate.
---
---
Palikite komentarą
---